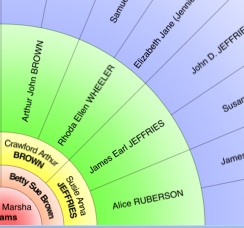 At the beginning of the year, I put together a research scheme in which I would focus on researching (and organizing the research) one branch of my family each quarter. The first quarter ended yesterday, so I thought it might be a good idea to report how it went.
Overall, I'm pleased. The first quarter of 2014 was devoted to my father's father's side of the family, the Adamses. Knowing which family I was researching kept me focused, which was terrific. The downside is that I certainly didn't finish researching that family (like I ever would), nor did I finish organizing the Adams research that I had uncovered in the past. But that's okay, because I can pick it up again in January 2015. And, of course, I can work on it whenever I want–my plan isn't a law, after all.
So now that it's the second quarter, I turn my attention to the Browns, my mother's father's side of the family. That's timely for a couple of reasons. They're a midwestern family for a number of generations back and I am paying a visit to the Midwest Genealogy Center in Independence, Missouri, next week (!). Also, there is a Brown Family Reunion in June, so I'll be extra motivated to uncover and organize my research so I can share it with cousins.
I'm kind of excited to switch the focus of my research. I'd gotten the easy stuff out of the way with the Adams family and of course when it gets more difficult, it requires more patience. So switching gears is quite welcome.
I think it's a little early to proclaim my quarterly research scheme a success, but at this point I can certainly imagine doing it again next year!