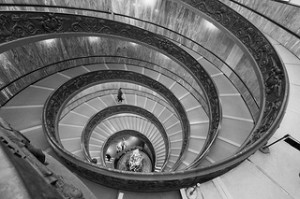 When I was at the RootsTech conference in February, I was inspired to check out getting a DNA test to help me in my genealogy research. I hadn't been tempted before, primarily because genetics always made my eyes cross when I studied it in biology class. But I grew to understand at RootsTech (primarily from the great keynote from Dr. Spencer Wells) that the more people who get genetic testing and open their results to others, the more valuable it becomes. It's part of that genealogical generosity I blogged about after the conference.
Today I was reading a primer on DNA testing for ancestry on the terrific blog Family History Daily. It was really informative, but I have to admit I'm getting a little paralyzed by the options. I did a little Google search and found myself wishing I could find an article in which someone would just tell me what test to take. I did find this terrific roundup, Top Genetic Genealogy Tools by Blaine Bettinger on Family Tree Magazine's blog, and was struck by the last sentence, "Having a clear purpose in mind–such as finding out where your maternal roots lie or whether you're related to someone else with your surname–is essential to choosing the right genetic genealogy test." That makes so much sense. Keeping your goal in mind is always helpful in making choices.
Now I realize I don't really know my goal. I'm motivated by curiosity and the desire to be helpful but that's not much of a goal to guide my choice of which test to take.
So I thought I'd turn to the helpful readers of this blog. Have you had a DNA test to help your genealogy? If so, what was your goal? And what service did you use? Were you satisfied with the test results? Would you recommend that testing service?
I appreciate any advice or experiences you'd like to share!
Unmodified photo by Alf Melvin via Flickr. Used under Creative Commons License.