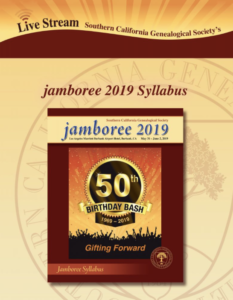 The Southern California Genealogical Society puts on a terrific conference each year. It's called the Genealogy Jamboree and it's being held this weekend in Burbank, California. I attended the Jamboree in 2015 and it was excellent. Since I'm not able to go this year, I was thrilled to learn that 12 sessions will be live streamed and that there is no charge to watch!
It gets better: You don't have to watch the sessions live (though you can). They will be available for viewing until July 31, 2019. The live stream is being made available free of charge through the generosity of Ancestry.com.
To take advantage of this, you must register by filling out a simple form. You don't even have to be a member of SCGS.
Check out the conference's website to see a listing of the 12 sessions that are available for free viewing. Syllabuses will be included!
Note: Free live streaming is available for the non-DNA portion of the conference only. Two days of the four-day conference are devoted to genetic genealogy and those sessions are available for streaming as well, but a fee applies. Here's a link more information on the streaming the genetic genealogy sessions.
The genealogy community is so generous. There are so many opportunities to learn without paying much. The hard part is finding time for all the learning!