This year I'm adding a new monthly feature, "How They Do It," in which I interview genealogy luminaries about how they organize their own genealogy research. There are so many people I admire in the genealogy world. I sent out a few inquiries to some of my favorites and was so happy to receive a positive response!
I'm kicking it off with none other than Thomas MacEntee, founder of GeneaBloggers , as as well as The Genealogy Do Over, among other notable contributions to the genealogy world. Thomas is a prominent speaker in the genealogy field and I know from having heard him speak on several occasions that he is very, very organized with his genealogy research.
Enjoy his pearls of wisdom. Check back on the first Tuesday of each month for a new How They Do It interview!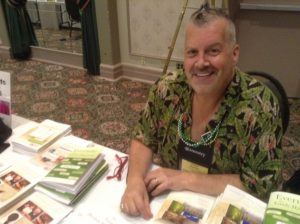 How They Do It: Thomas MacEntee
How long have you been doing genealogy?
I have been doing genealogy research since 1977, so close to 40 years
What's your favorite part of doing genealogy?
My favorite part of genealogy is the problem solving/CSI aspect. Trying to figure out how everything fits together on records and family stories.
Do you consider your genealogy research well organized?
I consider my genealogy research very well organized, especially when it comes to the digital assets.
What type of software do you use for organizing your genealogy research?
I have various software programs that I use to organize my genealogy research. First I use my operating system Windows Explorer to rename and organize files and folders. Second I use Excel and a research log to track all of my information that I find online and in person at archives and repositories. Third I also take advantage of the metadata feature on specific files via Windows Explorer. And I have one overriding rule with my genealogy research: nothing goes into my genealogy database software until it is proven.
Do you keep a research log? If so, what format?
For research log, I have created my own template in Excel which includes helper tabs for citing sources in evaluating evidence. It is available for free at www.genealogyresearchlog.com.
Do you have a tree on Ancestry? If so, is it public or private? Why?
I have two Ancestry trees, both of which are public. One is my original tree, created when I was a name collector and has over 8000 entries. I have placed the word "unsourced" in front of the name of this tree. I also have a more current tree that has fewer than 100 people but all of the information is sourced and proven.
What's your biggest challenge when it comes to organizing your genealogy?
My biggest challenge in organizing my genealogy research right now are the physical items. Many of them are just thrown into a holding box and I keep telling myself I will organize them when I have time. I really need to carve out some time during the winter to get these items organized properly
What's your biggest piece of advice to beginning genealogists in terms of keeping track of their research?
My first piece of advice for new genealogists is to track everything. This even means negative results. Second treat every document and every record and every bit of information as if you'll only be able to touch it one time in your life. This means extract as much information as possible from the document or record and cite your sources right away.
What do you think is the most important thing for people to do to stay organized when it comes to family history research?
Organizing genealogy research requires a plan; just like a to do list in genealogy is needed before you start your research. So I have a separate to do list for the organizational aspect of genealogy as opposed to the research aspect. These to-do items go on my project list and are tracked like any other task during my normal workday.
If you were starting out new as a genealogist what would you do differently?
If I were starting out as a new genealogist I think the first thing is I would try to find a mentor–someone who could show me the ropes. I think in today's Internet age, however, it is so easy to find credible resources such as those at the Board for Certification for Genealogists and the National Genealogical Society that can substitute as a mentor for newcomers. Also, I wish someone had told me there was no easy button in genealogy!
Do you keep paper or electronic files (or both)?
I keep both paper and electronic/digital files but my files are predominantly digital. If I have a photocopy I will often scan it and add it to my digital library and dispose of the photocopy. The only paper copies I keep our original items such as letters, diaries, and photographs, as well as vital records that I ordered from various agencies.
Are you folder or binder person for your paper files?
I am a folder person, although I am migrating more towards being a binder person, using archivally sound materials such as binders and sheet protectors.
Do you use Evernote, One Note or any other electronic organizing system for your genealogy? If so, how do you use it?
I use Evernote, having been a One Note user in the early 2000's. I use Evernote mostly to clip items from the web and to save them for research. I find managing a research log on Evernote to be very difficult.
Do you have a dedicated space in your home for doing genealogy research? What's it like?
I have an office in the back of my condominium in Chicago where I've worked for the past 10 years running my genealogy business as well as doing genealogy research. It is a small space, roughly 10′ x 10′ with small bookshelves and various bankers boxes strewn about
Do you have anything to add?
I'm a firm believer that anyone can build good organizational skills and that organizing is a discipline that can be learned. My philosophy on organizing things right away is this: the more you put it off or delay it the more difficult it will be. That time spent reorganizing could be better spent researching for ancestors. Lack of organization basically squanders your precious time.
I agree wholeheartedly with Thomas's contention that anyone can become organized. I think he's spot on about the value of organizing things right away to avoid a backlog and maximize the time we have to spend with our ancestors. Thank you, Tom!