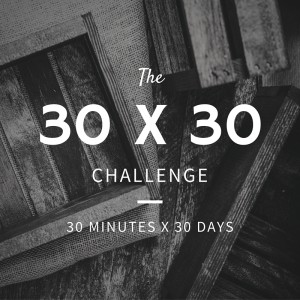 Happy to new year to all my readers! Boy, do I need a 30 x 30 challenge. I have been so disconnected from my research since my last 30 x 30 challenge in October, first because of National Novel Writing Month and then I was slammed with work for my organizing business in December. So my research has been quite dormant, which makes me sad.
Starting January 1 I commit to doing 30 minutes of genealogy research every day for 30 days. Will you join me?
The first step for me–which I hope to do before January 1 rolls around–will be getting back in touch with what I was doing with my research. I'll do that by reviewing my informal research log. I hope to take some time this weekend to set some goals for my genealogy research in 2020 as well. I think that I'm going to try to keep them simple this year, with an emphasis on daily research. (If there's one thing that these 30 x 30 challenges have taught me, it's the value of daily research.)
So please let me know in the comments if you're interested in participating in the January 2020 30 x 30 challenge. I'll do a mid-month status report that I'll invite you to participate in. Otherwise it's very low key…just an opportunity to get back into daily research knowing that others are doing it with you.
Can't wait to get into daily research!