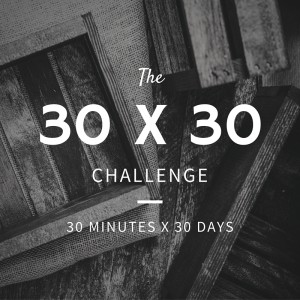 Last summer, I did a personal 30 x 30 challenge, in which I committed to doing 30 minutes of family history research for 30 days. It had a number of benefits, the most obvious of which was that I accomplished 15 hours of family history research that month!
With the holiday season, travel, and the addition of a puppy to our family, I got precious little family history research done the last month or two of the year. So I decided that the new year was a great time to start a new 30 x 30 challenge.
I intended to start it on January 1, but I woke up on New Year's Day with a cold (and a bit of a hangover), so put it off until January 2. I did research on the 2nd and 3rd and completely forgot about it yesterday.
So today, I'm starting a new challenge, which will run from January 5 to February 4. I'm working on my Adams line this quarter, so I will be focusing on the Civil War pension file for my union ancestor George Washington Adams, as well as checking my sources and making sure my electronic documents are properly filed for my other Adams ancestors.
Let me know if you'd care to join me in a 30 x 30 challenge this month!