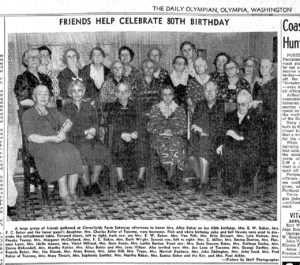 This past month or so, I've been focusing my genealogy research on a small family unit: My great great grandfather, George Washington Adams, his second wife, Della, and their children. Even though I'm not directly descended from Della, their story (which I picked up on thanks to George's Civil War pension file) has fascinated me and I've been trying to learn more.
I was able to connect some of the dots when I was at the Family History Library last week–many thanks to reader Maria Tello for helping me out there. I even found the death certificate for a child who was born and died between censuses, whom I hadn't been aware of. With the connected dots I was able to verify some (and debunk some) of the information that was on Della's Find A Grave page. That page referred to a couple of newspaper articles in the Daily Olympian of Olympia, Washington. I have a Newspapers.com subscription and looked up those articles there, but couldn't find them. Nor were they available on the Library of Congress's Chronicling America site.
When I was at the Expo at RootsTech, I stopped by the Genealogy Bank booth and quizzed them about what makes them special. The representative told me that something like 95 percent of their content is exclusive, so most of the articles they have are not available elsewhere. That was enough for me to give it a try. Taking advantage of the RootsTech discount, I signed up for a year for $60.
My very first search hit pay dirt. And since then, I've found more than a dozen really useful articles on this family. It's not that the family members were famous; it's just that the newspaper reported on little things, like club meetings, birthday parties and military promotions. And, of course, deaths.
I think my two biggest a ha moments were these:
I saw a photo of Della…it's so nice to see what she looked like! (That's the photo, above.)
I learned that Della and my great grandmother, Hattie Adams, were in the same chapter of the Daughters of Union Veterans club together, so I'm assuming they knew one another. Hattie was married to Elmer, one of George's sons from his first wife. Henrietta. Since Della married George after Hattie and Elmer moved from Kentucky to Washington, I didn't know whether Della had a relationship with George's sons who lived in Olympia. Nor do I (yet) know why Della migrated to Washington from Kentucky after she and George were divorced. But that little bit of information makes me want to learn more!
The other thing I've enjoyed about looking at these old newspapers is learning a bit about daily life and also realizing that things aren't all that different now than they were then. Some of the newspaper articles could have come out of our newspapers!
I learned about a few historical things I hadn't known about (unrelated to my family) as well. I clipped some articles and put them in an Evernote notebook called "Historical observations." For example, apparently some counties in northern California, together with some in southern Oregon, announced they were planning to secede from their respective states and form a 49th state, called "Jefferson." This was in 1941. That was news to me!
If you haven't mined newspapers for information on your family, I encourage you to do so. Based on my experience so far, Genealogy Bank is a worthwhile investment, if you have the money to spend.