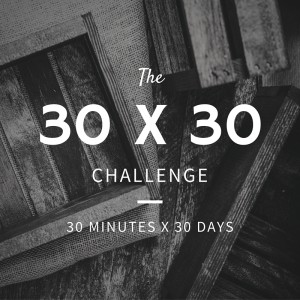 Today's the last day of my June 30 x 30 challenge, in which I challenged myself and my readers to do 30 minutes of genealogy research for 30 days in a row. I am delighted to report that I researched every day in June! Some days the 30 minutes flew by. Other days, that half hour felt very long. It was definitely a valuable exercise.
I don't think I've had a challenge where I didn't miss a single day. I think there were a few reasons for my success this month:
I researched first thing in the morning. I found it to be a great way to start my day.
If necessary, I got up a half hour early in order to fit in my research. I think it helps that it gets light so early this time of year!
If I got up early, I went to bed early so I didn't miss out on sleep.
I had my transcription project to work on (see below), so I was able to make measurable progress in only 30 minutes.
I logged each session, including "next steps" at the end of each entry so I was never at a loss for where to start.
I love keeping commitments. But successfully completing this 30 x 30 challenge made me especially happy because I found I really benefited from researching daily. This year I'm focusing on one family line (the Adams family, my paternal grandfather's line). A couple of years ago, I sent for the huge Civil War pension file of my grandfather's grandfather, George Washington Adams, 1845-1938. I didn't start transcribing it until November of last year (during another 30 x 30 challenge). By the end of 2016, I had transcribed the first 55 of the 138 documents. I made some progress in the first months of this year. During this June challenge, I transcribed Documents 90 through 124. The light is shining bright at the end of the tunnel! I plan to finish transcribing before the end of July. A side note: G.W.'s death was reported in Document 110. There are 28 documents generated after his death. The Veterans Administration was all about paperwork!
Transcribing can be tedious work, but when you do it daily, you really can pick up on small details and catch inconsistencies. I had read these documents more than once. But in the process of transcribing, I picked up on things like changes of addresses, family members I'd never heard of before and discrepancies in a timeline. Because I was keeping a research log, I had a place to jot down my musings.
Another benefit to daily research is that it helped me create the habit of logging my research, something that's been difficult for me to do in the past. I use Evernote and I keep it simple and remembered every day to do it. That kind of repetition really helps ingrain habits.
Not every session was spent transcribing. Some days I allowed myself to follow up on some of the discrepancies and research some of the new-to-me family members who popped up. Then I got to experience the joy of discovery. Thanks to this pension file, I learned about a second family that G.W. Adams had, a son and daughter born when G.W. was 62 and 68, respectively. Researching these new-to-me relatives has been fascinating.
I'm curious to see whether I'll keep researching daily after the 30 x 30 challenge is over. Usually I revert to sporadic research at the end of the 30 days. But I'm really engaged with this family now, so I'm hopeful I'll continue research frequently. I'm traveling to visit my father in an week. Travel often throws me way off my routine, but I think being around my father and his sister (Adamses!) will prompt me to research.
Those of you who participated in this month's 30 x 30 challenge, please report in. Even you didn't manage to research daily, did you find the challenge helpful?