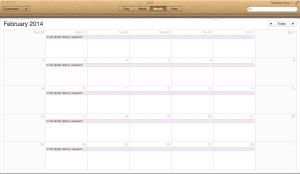 Finding time to do family history research is a problem for me. I bet I'm not alone! Even though it really is important to me, I'm having a hard time making it a priority. I was thinking about that problem recently and thought about how I've learned through the years that daily actions are easier to sustain then less frequent actions. Between this blog and my Peace of Mind Organizing blog, for instance, I try to blog five days a week. And, for me, that's easier than blogging weekly.
Then it hit me. What I need to do is make a commitment to doing a little family history research, or a little organizing of my family history research, five days a week. It might be for only 15 minutes. But, as I tell my clients, a little bit of daily effort can make a big difference. Another benefit of daily effort is that you get into the habit of doing it.
This represents a shift for me–before, I think I was having trouble finding the large blocks of time I felt I needed. But I know that I can get quite a bit done in a short bit of time. (A timer really helps.) So now, knowing that I just need to squeeze in at least 15 minutes, I'm less overwhelmed by finding time and getting started. And since I've done research so recently, I have a better idea of what I want to work on.
I'll be interested to see how this works out. I'm feeling very hopeful. I came up with this idea on Thursday of last week. So I did research on Friday (and blogged about it). This afternoon, I remembered my commitment, so I sat down and did some work. I have a feeling that this schedule will actually take some pressure off me!
P.S. Have you had a chance to take my poll on what types of posts you'd like to read on this blog? This will be my last reminder; I just want to give you a chance to express your opinion by taking the quick poll.