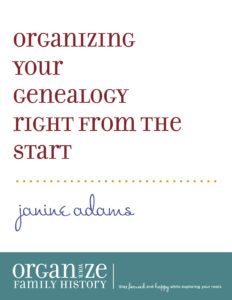 When I announced that I would be publishing Orderly Roots guides (concise, downloadable pdfs) back in October 2015, I promptly published two. I fully expected to write more quickly, but then other priorities got in the way.
But I'm thrilled to announce that I just published the third Orderly Roots Guide, Organizing Your Genealogy Right From the Start! This 13-page guide will hope new and more experienced genealogists create a simple, complete organizing system. It allows me to go a little more in-depth than I can on the blog.
I just published Organizing Your Genealogy Right From the Start this morning. It's available for immediate download, for $8.99.
Now that I'm back on it, I hope to publish more soon. Other topics in the works are:
Creating Great Genealogy Habits
Making the Most of Your Online Research Time
How I Organize My Genealogy Research
Getting Started in Genealogy
Essential Technology for Genealogists
Planning a Genealogy Research Trip
Planning a Cemetery Research Trip
Of course, that list might change. And I'm definitely interested in hearing from you if there's another topic you'd like to see me cover in depth!