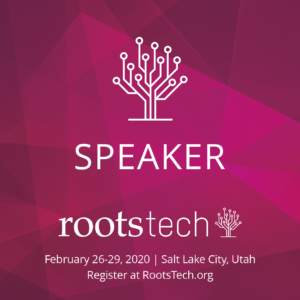 RootsTech 2020–the giant genealogy conference in Salt Lake City sponsored by Family Search–starts this morning! I'm attending this year and I learned at a reception for speakers last night that 14,000 people have registered and on Saturday (Family Discovery Day) they're expecting 24,000!
This is my fifth RootsTech conference. I also attended in 2014, 2015, 2017 and 2018 and this is my second as a presenter. (I spoke at the 2017 conference.) I really enjoy RootsTech because of the great keynote speeches, the over 300 classes offered and the opportunity to learn about new services and products in the Expo. I also like meeting up with blog readers and doing research at the Family History Library while I'm in Salt Lake.
As much as I love RootsTech, I have to admit that it is exhausting. I'm not much for crowds, so I have to be sure and schedule down time during the conference. I went to bed really early last night–self care is especially important here. I'm giving my session, "The Imperfect Genealogist" at 3 pm on Friday, so naturally I'm a little keyed up about that. So good self care for me will be daily rehearsals in my hotel room to keep me confident.
The folks who organize RootsTech have created RootsTech 2020 Survival Guide. If you're going, I encourage you to check it out. Here are a few things to do right away if you haven't already:
Download the RootsTech app (or update it if it's already on your phone from a previous year)
Select the classes you think you'll want to take
You might enjoy watching the Road to RootsTech video series, which shows behind-the-scenes peek at the planning for the event.
If you're a paper person, you might appreciate the printed RootsTech Conference Guide you can pick up at the conference. You can peek at an online version here.
Some of the conference will be available online to people who can't attend in person (as well as those who can).
Free Live Stream. Each day of the conference five or six sessions will be streamed live, free of charge. Just go to www.rootstech.org to watch. Note that the livestreams from previous years are also available!
This year, they're offering a Virtual Pass for $129 that gives you access to 30 classes for a full year after the conference, starting 10-15 days after it ends. (If you're attending RootsTech in person, you can buy the Virtual Pass as an add on to your conference registration for $79.) I'm really excited to have the Virtual Pass because it helps me narrow down which class to attend each session. (I'll skip the ones I can catch online.)
If you're going, I hope you have an amazing time. This conference is an organizational marvel and the way the organizers have handled the speakers has been top notch. Feel free to reach out to me via the Contact form if you're at RootsTech and would like to meet up.