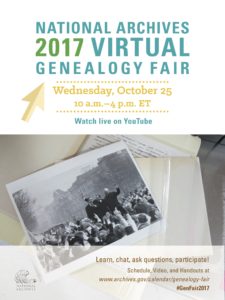 Once again, the National Archives is having a Virtual Genealogy Fair, with a day's worth of lectures available free of charge. This is the fifth year in a row they've offered this webcast.
You can read the lineup here. Detailed descriptions of the sessions are posted here, which is also where handouts will be posted when they're available. (Classes are marked either Beginner" or "Experienced.") There will be six one-hour sessions each day, including one on storing and handling family heirlooms.
Since I live in St. Louis, I'm excited that two of the sessions are about the National Archives facility in St. Louis, including one on accessing records burned in the big fire there in 1973.
The event takes place on Wednesday, October 25, starting at 10 am Eastern time and ending with closing remarks at 4 pm. I'll be traveling that day, so I won't be able to watch live, but I'm thrilled that the recordings will be available for a period of time after October 25.
Here's a link to the YouTube Channel where you can watch the sessions. No registration is required!