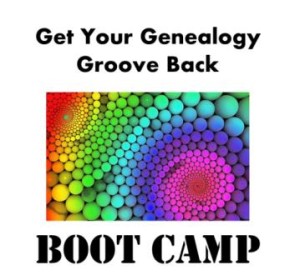 I just signed up for the Get Your Genealogy Groove Back Boot Camp from Hack Genealogy. It will be held on Saturday, January 25 from 10 am to 1:30 pm central time. (Recordings are available to registrants who can't attend live or wish to watch it again.)
This boot camp series is organized by Hack Genealogy, the blog run by Thomas MacEntee, founder of Geneabloggers. This particular boot camp consists of two webinars that are right up my alley:
Genealogy Goals: How to Set Them, How to Keep them, presented by Lisa A. Alzo
Managing the Genealogy Data Monster, by Thomas MacEntee
I'm really looking forward to hearing what these experts have to say!
The boot camps are very reasonably priced. I paid only $9.95 to register. That includes a $3 discount for ordering before January 20.
There are so many learning opportunities in the world of genealogy. I was attracted to this one because of the expertise of the presenters, the fact that it's live (sometimes recordings just languish on my hard drive), and the very reasonable tuition. Can't wait!