Grab a cup of coffee or tea and settle in for a great read. Today's installment of How They Do It features Pat Richley-Erickson, known to genealogy enthusiasts as DearMYRTLE. Pat is a prolific writer and educator. She has the DearMYRTLE Genealogy blog, the DearMYRTLE YouTube channel, her own Google+ genealogy community and hosts frequent hangouts. She is one of the administrators of the wildly popular The Organized Genealogist Facebook group. So she knows more than a little about organizing genealogy. She generously shares her insights and workflow (!) in today's interview.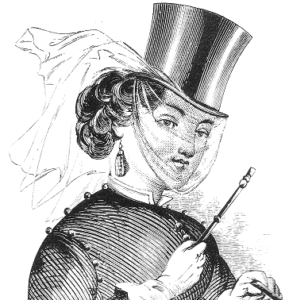 How They Do It: Pat Richley-Erickson
How long have you been doing genealogy?
My first foray into genealogy was in early middle school where I learned calligraphy and created an illuminated manuscript of my five generation pedigree.
What's your favorite part of doing genealogy?
Uncovering stories of the life and times of an ancestor. Historical context is everything when it comes to understanding why someone moved, joined the army, took up a profession, etc. Mr. Myrt once hired a professional guide as we toured Gettysburg. The guide was a specialist who knew the precise troop movements for my ancestor in the 19th Indiana, part of the Iron Brigade. I had assumed the Union retreat through the town of Gettysburg was a frantic mess, but the guide explained not so for the units in the Iron Brigade. They took up the rear, laying a suppressing fire to defend the troops from Confederate attack at the rear. The guide also took us to Culp's Hill and explained how my Union soldier's regiment did not engage in battle against Cousin Russ' Confederate Marylander. The hill is more of a ridge, where the battle with Russ' ancestor took place on the south and southeast, while my ancestor's unit was bivouacked on the north side of the ridge and did not engage.
Do you consider your genealogy research well organized?
Seriously? This must be a trick question. 🙂
What type of software do you use for organizing your genealogy research?
I organize my research findings in my genealogy management program and have networked my computers, tablets and printers. If I get the urge to look something up on any device, it can be printed and saved to a network drive. I use alternate trees, online and in my RootsMagic for "possibly related"  individuals and family units. Sometimes it takes research on several generations before I can distinguish the difference between two men with the same name living in the same locality. It is only then that I drag and drop the appropriate individuals to my main database. Unlike a GEDCOM file, the drag and drop feature in RootsMagic can bring one, all or some ancestors along with the digital files I've attached. (The current data transfer protocol known as GEDCOM has no containers for transferring the actual images.)
Do you keep a research log? If so, what format?
Research logs are essential for planning what to do next, and postulating where to look for applicable record sets. I've progressed from Word/Excel (in Dropbox) to Google Docs/Sheets simply because regardless of the device I choose to access the cloud-based research logs, that device doesn't require Word or Excel to view it. See comments below under One Note where I've described a new change in my field research process rolling out these past few months.
Do you have a tree on Ancestry? If so, is it public or private? Why?
Yes, I have several private Ancestry member trees, in addition to those at FamilySearch, FindMyPast, MyHeritage, and WikiTree. I do this because I want to get the low-lying fruit of shaky leaf hints whenever possible. I have a big problem with "one big tree" sites where other researchers can indiscriminately modify my data. Three times someone has added a deceased Uncle Jack to my paternal grandparents on FamilySearch, though my true Uncle Jack is alive and well. I don't have time to go around repairing the mistakes of others. The Ancestry trees were changed to "private" status when I noticed living individuals were clearly in full view to a cousin on her computer as she looked at my public tree.
What's your biggest challenge when it comes to organizing your genealogy?
Does a backlog of digitizing paper files ring a bell with any of your readers? That's my biggest challenge. Though my daughter and I spent a week of 8-hour days digitizing records, I think we're only 20% finished.
What's your biggest piece of advice to beginning genealogists in terms of keeping track of their research?
Develop a work flow consistent with the Genealogical Proof Standard, learning more about the GPS by attending as many genealogical institute courses as possible. There's a difference between classes you pick and choose to fit your conference schedule, and dedicating a solid week of in-person or virtual institute classes designed by a coordinator who knows what you need to learn. We don't know what we don't know.
My work flow is this this:
Decide on a question to answer, i.e. what's the bride's maiden name, or who are the parents?
Read up on the locality – its history, culture, laws and various church and government jurisdictions for the time period my known ancestors lived there.
List possible record groups to research.
Review those records – most are offline at this point.
Analyze info from each document, correlating with info from other documents.
Work through conflicting evidence logically. Dr. Thomas W. Jones, CG has taught the most likely scenario is usually correct.
Summarize conclusions, or as Cousin Russ likes to call it "current thinking."
Enter the conclusion narrative in notes for an individual or family unit in my genealogy management program.
Attach all documents, properly cited to the individuals in question.
Recognize that the narrative may change if new info comes to light. At least, the narrative will get me up to speed with my thinking when I return to the research later.
Proceed to the next research question.
What do you think is the most important thing for people to do to stay organized when it comes to family history research?
Digitize what you find immediately so it is easier to cite and then review all collected about a family or individual. Our dining room tables are only so big. Digital copies are also easier to share with distant cousins at a moment's notice.
If you were starting out new as a genealogist what would you do differently?
I'd make notations about a record set even when I didn't find anything applicable to my ancestors, and I'd learn to craft citations immediately, so I can find that record set again. Citations would include these elements: author, title, publication info, who it's about and date of event, volume and page number and a little information about the repository. If the document is online include the URL and the date accessed. Elizabeth Shown Mills, noted author of Evidence Explained: Citing history sources from artifacts to cyberspace said in a forum post at EvidenceExplained.com: "Bottom line: As researchers, we may add anything to our citations that we feel will help us as we proceed with the project—recognizing that the citations may be trimmed at publication time." So, don't be afraid to annotate. I have rogue documents from research 30 years ago, usually pages from books, where I didn't take the time to also copy the title and copyright page(s). At home I make a copy of the title page and write "no Fromans, no Goerings, no Phillips," filing a copy with each surname folder on my hard drive.
Are you folder or binder person for your paper files?
When I moved from folders to binders, Ol' Myrt here ended up with 122 four-inch 3-ring binders! Now I safely store in Hollinger metal edge boxes only precious, one of a kind documents, like original marriage records and family bibles.
Do you use Evernote, One Note or any other electronic organizing system for your genealogy? If so, how do you use it?
Last fall I learned from a friend's husband how he does on-site research as a fire inspector. He uses a Microsoft Surface Pro – a highly portable computer that acts like a tablet. He takes pic with the device, adds them to One Note, where he uses a stylus to scribble field notes, and can tap to type as desired. I could see the immediate use in my genealogical research.
I've installed a full-version of RootsMagic, using my databases in a Dropbox folder shared on my home network. At an archive, I take a photo of the file folder label, and then the contents, The "paper" in One Note isn't confined to any paper size, so you can draw mini pedigree charts when trying to figure out the relationship of people in the will. I am also careful to "bookend" all images from a file with the folder or box label. That way if I consult multiple files that day, I know which photos below to which folder.
This would also work well in a cemetery. I'd take a picture of the cemetery entrance sign, then the tombstones in question. I could add those images to One Note and then transcribe the text with my stylus. I could move around until I could decipher every letter, before moving on to the next image. When leaving the cemetery, I'd take another picture of the cemetery entrance sign. That would set apart those images from the next cemetery visited that day.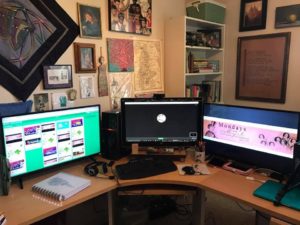 Do you have a dedicated space in your home for doing genealogy research? What's it like?
My genealogy office has four full-height shelves, a four-drawer lateral file, and a closet with built-in shelves. Our big library is shared with Mr. Myrt, also a genealogist. My computer desk has three monitors. This works well since I provide most all-day seminars virtually to a distant society or library group. When researching, I keep RootsMagic open on my right screen, website research in the middle screen, and research log in Google Doc or Google Sheet on the left screen. I can zoom in on the document in question as I transcribe it word for word. I recently added an external hard drive strictly for artwork and my embroidery machine graphics. Everything is backed up to BackBlaze. All documents, images, handouts and PowerPoint slides are in Dropbox.
I've had to add a bookshelf outside my office in the hallway, so I guess you could say the books have gotten out of hand. At least they are basically organized by topic – Rev War, Civil War, WWI, WWII, African American, Quakers, general reference, British research, etc. Above that hangs what Mr. Myrt like to call a lesson in provenance. Not only do I have my father's bear-skin rug, but I have the image of him hunting it at the Olympic Peninsula and the framed taxidermy receipt.
Yup! We eat, sleep and breathe family history.
I'm so grateful to Pat for sharing her insights, particularly her workflow and her recent use of One Note. I am inspired by the interview to give serious consideration to signing up for a genealogical institute course! Thank you so much, Pat!