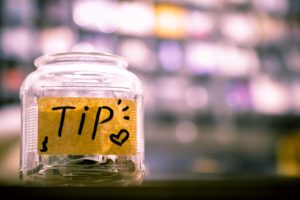 Here's the next in my occasional series of bite-size Quick Tips. Click on the Quick Tips tag for my other Quick Tips. Because I tend to write longer posts, I wanted to provide a quick-to-read (and quick-to-write) post every couple of weeks on a small topic that pops into my head. This one is brief but very important.

Back up your data
If you've embraced digital file organization, as I have, it's absolutely imperative to back up your data. And it's a good idea to do it in multiple ways. I store my genealogy source documents on my hard drive and I back up my hard drive continuously through Backblaze, an automated cloud-based service. (That's a referral link; I'll be compensated if you use the link to sign up for BackBlaze.) I've been very happy with Backblaze but there are other cloud-based backup services, like Carbonite and CrashPlan, that you might consider.
I also automatically back up hourly to an external hard drive via the Time Machine program on my Mac. (I keep my external hard drive plugged in via a hub whenever my computer is at my desk, which is most of the time.) Finally, my Reunion database is stored on Dropbox, so that I can access it, via ReunionTouch, on my phone. So that's another place the files exist. I have confidence back up system and, best of all, it's all automatic–I never have to think about it!
Those are just the ways I back up. There are lots of other ways to do it. The important thing is to feel confident that if your hard drive failed or your computer were stolen or damaged you would not lose your precious genealogy data. If you're not as confident, I urge you to take some steps to explore how you might improve your situation!
Photo by Sam Dan Truong on Unsplash