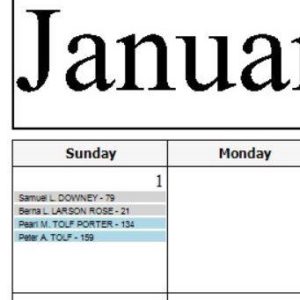 April 19 has always been a special day for me. It's the birthday of my grandmother (Beatrix Flournoy Rasco Adams, 19 Apr 1907 to 23 May 1987) and it's also my brother's birthday. He turned 60 yesterday!
Taking note of April 19 reminded me of the great method of deciding what to research shared by Laura Aanenson on the Genealogy Research Loggers Facebook group last year. I blogged about it on January 20, 2017, in a post called Using a calendar to introduce variety into your research. (Laura's blog is where2look4ancestors.)
In a nutshell, in 2017 Laura was using the calendar function in Family Tree Maker to help her decide to research every day. Each day, the names of those ancestors who were born or married or who died on that day came up on the calendar.  She would choose her research subject from that list.
I use Reunion, which also has a calendar function, but a commenter, Kim, shared the idea of using the Reminders feature in Reunion for the same purpose. I hadn't even noticed the the Reminders feature. Since I'm pretty focused on my Adams line, I haven't adopted this procedure. But I love the idea.
If you find this idea intriguing, I encourage you to read that post and to take in the comments as well. Thank you, Laura. This is such a great idea!