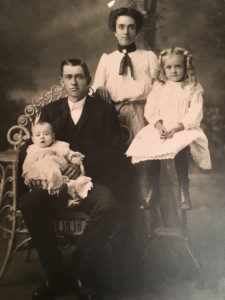 In June, I completed the 30 x 30 challenge in which I did at least 30 minutes of genealogy research a day the whole month. Then I kept it up into July, managing to research each day through July 9. I'd created a wonderful routine of doing genealogy research first thing in the morning. It was a great way to start the day.
Then my routine was disrupted by a pre-planned trip to visit my dad in Walla Walla, Washington. Unfortunately, he ended up being hospitalized after a fall the day I arrived. So my days have been spent first at the hospital, then the rehab facility. He comes home in a couple of days and I go back to my home in six days. So I just haven't had the luxury of time alone to do research. (This also explains why I didn't blog last week!)
I was really struck yesterday by how much I miss researching. I miss my connection with my ancestors. And I miss making progress. I also miss my peaceful morning routine.
I'm trying to stay connected with my ancestors by talking with my dad and my aunt (his sister) about family history. I've been able to share some information that they didn't know, uncovered in my research. And my aunt gave me the beautiful photo above of her mother as a baby, with her sister and parents. (The parents are William Reese Rasco, 1878-1957 and Louella Watts Rasco, 1879-1953. The kids are my great aunt Lessie Rasco, 1901-1994, and my grandmother, Beatrix Rasco Adams, 1907-1987.)
I hope having researched daily for 39 days will help me get right back into the swing of things when I get home next week. Perhaps I can get started before that, once once my dad is in his home and I'm hanging out with him there.
What I want to avoid is losing my mojo and getting out of the habit of researching. So you may see another 30 x 30 challenge coming up sooner rather than later!