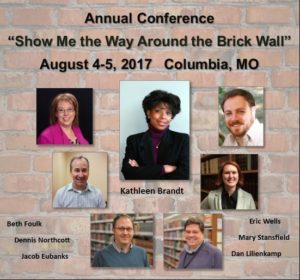 I just love going to genealogy conferences. I try to go to one or more a year. This morning, I signed up for the Missouri State Genealogical Association's conference August 4 and 5 in Columbia, Missouri. The theme is "Show Me the Way Around the Brick Wall." Who isn't interested in that? I have roots in Missouri going back to the mid-19th century, so I'm excited to learn more about Missouri resources.
I've never been to this particular conference before and I'm really excited. It'll be about a two-hour drive for me and I'll spend Friday night at the conference hotel. I love a genealogy getaway!
Why do I love genealogy conferences so much? For starters:
They allow me to set aside time away from home to focus on my genealogy research without distraction.
The learning! When the topics align with my research interests, I'm in heaven. And with this conference, they certainly do.
I get to meet genealogy enthusiasts like myself.
I often get to meet readers of this blog. Sometimes they become friends!
Conferences give me lots of ideas of things to blog about.
I often learn of new resources in the exhibition hall.
This will be my second conference this year. The first was RootsTech.
Do you go to genealogy conferences? What's your favorite aspect? If you happen to be planning to attend the MoSGA conference, please let me know in the comments and we can meet up!