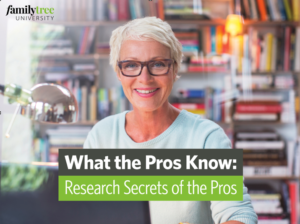 I'm so excited to be hosting a second What the Pros Know workshop for Family Tree University. This one is called What the Pros Know: Research Secrets of the Pros. It will run June 11 to 17. (Back in January I hosted What the Pros Know: Genealogy Organizing Tips.)
In the workshop I interview four prominent genealogy experts, each on a different aspect of research. The experts have been asked to share secrets from their own genealogy research.
The audio interviews (which together are one hour) play behind a slide deck that you can see while listening. During the week of the workshop, participants will have access to an online discussion forum and for three hours the evening of June 14, I'll be on hand live to answer questions on the forum.
Here are the experts for this go-around and their topics:
As I write this, I've completed three of the four interviews and they've been fun and, I think, really interesting. I'm pumped up to explore the resources I've learned about.
You can sign up for the workshop, which costs $59.99 here. I hope to see you on the discussion forums!