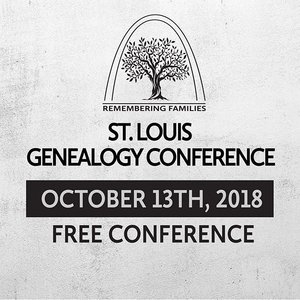 The St. Louis Genealogy Conference, a free conference sponsored by the St. Louis Missouri Stake of the LDS church, is less than a month away! Registration is still open. If you're in the St. Louis area, I encourage you to attend.
The conference will be held Saturday, October 13, from 8:45 am to 2:45 pm at the Church of Jesus Christ of Latter-Day Saints, 15081 Clayton Road, Chesterfield, MO 63107. This will be my third year attending. The organizers do a great job of putting together a professional conference, with a rich and varied schedule of classes. I'm honored to be presenting for the second year in a row.
I'll be speaking about staying focused in your research, something I know many of us struggle with. Other topics to be covered include courthouse research, early American research, newspaper research, DNA, and sessions on specific repositories. There's a beginner's track, as well as a track on German research. All at no cost to the participants.
If you plan to attend, please let me know in the comments or via email. I'd love to meet you!