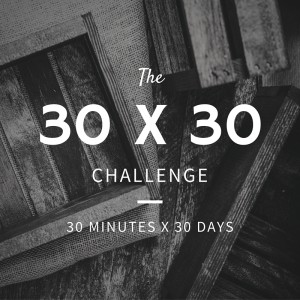 For those of you who are participating in this month's 30 x 30 challenge, in which we're trying to do 30 minutes of genealogy research every day for 30 days, please report in! Are you able to research every day? Or most days anyway? Have you found it to be beneficial?
This has been an especially good challenge month for me. I've been to carve out time first thing in the morning most mornings. I think it helps that it gets light so early, so it's easy to get extra early to make time for research. So far, I haven't missed a day. My timer has been really helpful, so that I don't get lost in the research.
In addition to researching for 30 minutes, I challenged myself to log my research daily and note next steps at the end of each session. That has been hugely helpful, because each morning I turn to the previous day's entry and I know what to work on.
Primarily I've been transcribing my great great grandfather's Civil War pension file this month, but I have taken a few forays into investigating his son and granddaughter (the brother and niece of my great grandfather) to fill in some blanks in my ancestor's timeline. The light is shining at the end of the tunnel: So far I've transcribed 106 of the pension file's 138 documents. I'd love to be able to finish the transcription project in June. (I've transcribed 16 documents in June so far.) We shall see if that's possible.
I love starting the day with genealogy research. I'm growing to love my (very informal) research log. And I'm feeling really connected with the research, which makes it easier to get started.
I hope those of you who said you were up to the challenge are seeing similar benefits! Even if you're not managing to research daily, I think keeping it top of mind with the challenge can be very helpful. I'd love to hear about your experiences!