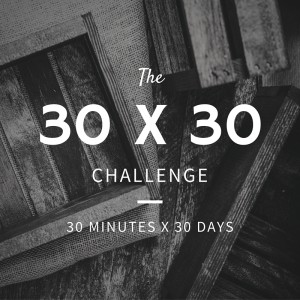 Our August 30 x 30 challenge is over and I'd love to hear how it went for you. Were you able to do genealogy research for 30 minutes a day? If not, did the challenge prompt you get more done than you might otherwise have? Do you have any achievements to share?
I had a great month. I researched every day, though I didn't always do the full 30 minutes. This month I kept a spreadsheet of my daily progress on reducing my backlog of downloaded documents that need to be processed. One of the fields in that spreadsheet is how much time I spent each session. The Numbers spreadsheet understands minutes and hours so I can easily glance at the sum for that column and see that I spent 17 hours and 20 minutes researching in August (including 20 minutes yesterday, which is technically past the 30-day challenge). That's an average of 33 minutes and 32 seconds a day. That feels great!!
The bad news is that I only reduced my backlog by 24 documents, which is kind of sad. Mostly that's because I downloaded 40 documents in August, despite my pledge that I would resist downloading. So that means I processed 64 documents, which doesn't sound quite as pathetic.
In any case, I enjoyed this month's research and, as always, felt I benefited from doing it daily. I love the connection I maintain with my research when I work on it daily.
How about you? If you participated in the challenge, please let us know how this month went!