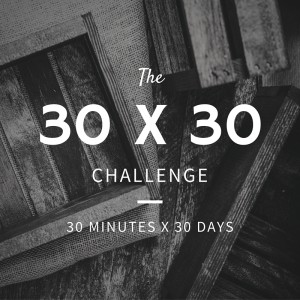 For those of you who are participating in this month's 30 x 30 challenge (in which we endeavor to do 30 minutes of genealogy research every day for 30 days), how's it going? It's almost halfway through the month. Have you found that the challenge is prompting to you to get more research (or organizing) done than you might have otherwise?
I've had a great couple of weeks. I've researched every day. A couple of those sessions were shorter than 30 minutes. One was about five minutes, just so I wouldn't break the chain of daily research. This month I've been keeping a spreadsheet of my efforts at reducing my backlog and I included a column on how much time I spent. So I can tell you that in 13 days , I have spent 6 hours and 45 minutes researching. (I think it's very cool that Numbers allows me to enter minutes then totals it up for me in hours.) That's an average of 31 minutes a day. Woot!
I have been focusing on eliminating my backlog of unprocessed documents, though it's going more slowly than I might have hoped. I have so far reduced the backlog by 24 documents. I'm finding that the processing is revealing questions and mysteries that are diverting me a little. But I have added only three new documents in the last two weeks! In any case, this slow and steady approach has been enjoyable. And the short, daily sessions is keeping me in touch with my research, which is always a great benefit.
I am confident that I would not have prioritized research if it weren't for the challenge. I am so grateful to all of you for providing me with accountability.
Your turn: If you're among the 30 or so folks who signed on to the challenge (or even you didn't sign on but are participating), please let the rest of us know how it's going!