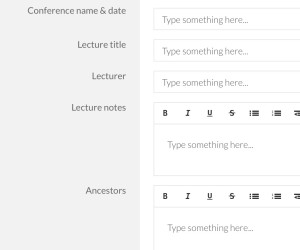 If you're going to RootsTech next week (or any other genealogy conference this year) I encourage you to check out the free template I created in Transpose.
Transpose is a business platform/website that I wrote about last year. It allows you to create templates (which they now call "solutions") to create customized forms. You can also download solutions that others have created and uploaded into the Transpose Public Library.
I've created a bunch of solutions for my own use and uploaded seven solutions to the Transpose Public Library. One of these is a solution called Genealogy Conference Notes. It's designed to make it easy to take notes at a genealogy conference.
I've only been to one genealogy conference since I created this solution (the Genealogy Society of Southern Illinois conference last August). Using the template, I created a new record for each lecture. The template allowed me to capture general notes from the lecture and also jot down which ancestors the information might apply to, along with action ideas. It worked out really well for me–I love having a structured place to take notes. When I got home, I had a list of concrete action steps.
I chose to take notes on my laptop, because I prefer a full keyboard. Transpose has an app you can use on a tablet or smartphone, but I haven't yet tried out taking notes with my solution on a mobile platform.
If you're interested in trying it, you'll need a free account at Transpose. Go to the Genealogy Conference Notes solution in the library and just copy it into your account. There it will be among any other solutions you copy or download. Just click on the solution and create a new record for each lecture you attend. All the information you capture will be saved for you in Transpose, in a searchable and filterable database.
You can also use it as a basis creating your own solution that works better for your needs. The folks at Transpose work hard to make it easy for you to use the platform. Here's a great getting started tutorial.
I can't wait to use it for the next genealogy conference I attend!
Unfortunately, Transpose announced on November 8, 2016 that it is shutting down on December 9, 2016.