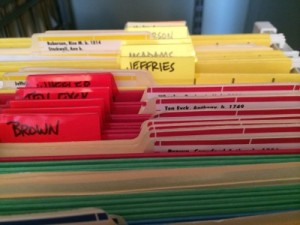 If there's one thing that I've learned in nine years helping people get organized in their homes, it's that there's no one right way to organize. Organizing systems that work beautifully for me (or another client) may be seriously flawed for you. That's why professional organizers can't take a cookie-cutter approach to organizing…we have to  customize everything for the client.
This is true in organizing a home. And it's also true in organizing your genealogy research. There are many ways to  organize your family history–just take a look at the many and varied answers for any particular question in the popular The Organized Genealogist group on Facebook.
So that's why I bristled a little as I read a document called Organize Your Files on the Family Search wiki about how to organize your genealogy research. I actually use the recommended one-couple-per-folder system for my paper records. (I learned about it more than a decade ago on FamilySearch.org.) But the absolutes in the article, the my-way-or-the-highway tone made it less useful to me.
For example:
Computer note keeping. Computers are great for genealogists—but they are not the final storage medium. Keep your research notes on computer if you like, but make a paper copy at the end of the day. Your descendants may not know how to boot your computer, but they will be able to read your paper printouts.

Make paper copies of electronic sources such as Internet sites, email, fax, or telephone interviews.
I don't agree with making paper copies of everything. For some people, it will feel worth the effort. For others, not. And that's okay.
The Family Search wiki has loads of good information. But this article served as a good reminder to me that gently guiding, rather than ordering people around,  can be more effective.
I think some people thrive on structure and probably really appreciate being told exactly what to do.  But for others, strict instructions can feel intimidating or overwhelming. Me, I prefer gentler language with options built in. I like to tell you what works for me, but I don't pretend that it will necessarily work for you. After all, tweaking is a good thing.