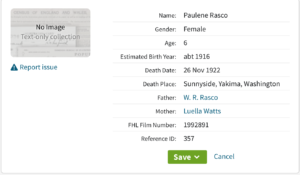 Today I was doing some research on Ancestry. (I've finished my backlog project and have lifted my ban on searching–more on that in a future post.) I was looking for a death certificate for my grandmother's sister whom I had just learned through Find A Grave had died at the age of six, in 1922.
A simple Birth/Marriage/Death records search produced a collection called Washington, Select Death Certificates, 1907-1960, but when I clicked on it, it said "No Image Text-only collection." (A picture of that screen is at the top of this post.) I saw that there was a FHL film number, so I went to Family Search to try to track down the document.
I was successful in finding an image of the death certificate, though I had to jump through a few hoops. After I successfully downloaded and processed it, I decided to do a screencast of the process, in case it help someone here.
Here's the screencast:
A quick summary is that I searched on the film number in the catalog at Family Search, then when I got another No Image Available message there, I drilled down further to the actual microfilm number mentioned on Ancestry and did another search. That brought up the image. If it hadn't, I would have gone to the image number (listed in the initial search result at Family Search) in that digitized microfilm. Bottom line: don't give up if you're told an image isn't available!
You can find more information on using Family Search's card catalog in this post from a year ago: Using the card catalog to find elusive documents on Family Search. And if you're interested in how I processed that death certificate after I downloaded it, check out the blog post How I process a downloaded document.