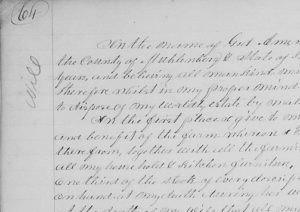 I use both Ancestry and Family Search regularly for online research. I tend to start with Ancestry because I find it easier to find indexed documents there. But when I'm looking for a document that's more elusive, the catalog at Family Search often comes through for me.
I will sometimes do a Records search on Family Search but most often I start with a card catalog search. And I frequently come up with some great results.
I'll give you a real-life example. I was doing research yesterday at the Saint Louis County Library and found an index to a Will Book. I wanted to see if I could find the actual document it referenced (an 1843 will for my 5th great grandfather, Jacob S. Baker, 1766-1845). Here's what I did:
I went to www.familysearch.org and logged in, then clicked Search, then Catalog.
Under Place, I filled in the location from biggest to smallest (i.e. United States, Kentucky, Muhlenberg) then clicked Search.
In the search results, I clicked on the type of document I wanted, in this case Court Records.
In those search results, I clicked on a collection called Court Orders, 1799-1912.
When I scrolled down under Film Notes, I was delighted to see that of the 12 rolls of microfilm, two had been digitized. And the year I was interested in was on one of those two rolls. (It seems like that never happens!)
I clicked on the little camera icon, which opened the images of the film reel. And just as though I were using a microfilm reader, I was able to find the document I was looking for, based on the information in the index. Hooray!
If I had simply done a Records search on Jacob S. Baker I would not have found this image. (This is another argument for getting away from my computer and going to a library or other repository.)
Here's another way the a Catalog search can be helpful. Sometimes at Family Search, you can do a Records search and find an entry that doesn't have an image. But that image may indeed be available, with a Catalog search.
For example, I was looking for the death certificate for the second wife of my 2nd great grandfather, George Washington Adams. Her name was Della or Idella Adams and she died in Olympia, Washington, in 1943. On Family Search, through a Records search, I found an entry for her death certificate in the collection Washington Death Certificates, 1907-1960. But there was the dreaded "No image available" message.
But I didn't give up. Instead, I copied the GS Film Number (2024117) and started a new search, this time of the Catalog. I pasted the film number in the box that says Search For Film/Fiche Number. (When I entered location as well, it didn't produce results, so I deleted the location and left just the film number.)
That gave me a link to the whole collection of Washington state death certificates. I clicked on film number 2024117, even though its description didn't seem to fit the county I was looking for. Then I went to the index record I'd found in the Record search and looked for the image number, 2348. I simply entered that number at the top of the screen for microfilm roll number 2024117 and it took me right to an image of Della's death certificate.
I love searching the catalog at Family Search. I know a catalog search is an option at Ancestry, too, but I find it less enjoyable and productive.
Next time you can't find an image of a document you have some information for, I heartily suggest using the catalog!