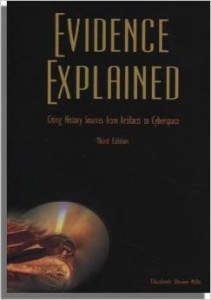 The newest edition of Evidence Explained: Citing History Sources from Artifacts to Cyberspace, by Elizabeth Shown Mills, has just been released. I ordered mine from Amazon last month and it arrived last week. Very exciting!
Evidence Explained is the gold standard for source citation. This new volume is a hefty 892 pages. It's hardcover. And heavy. (And also available in an electronic edition.) But it contains within its covers the answers to knotty problems of how to cite a source. This edition includes updated information citing genetic sources as well as sources from the Internet.
Over the last few years that I've been doing more serious genealogy research on my family it has become very clear that citing and analyzing sources is the key to doing accurate, reliable research that holds up over time. Great source citation also helps other genealogy researchers who may want to use the data I've gathered because they can tell it's reliable and find it themselves if they want. It may feel like extra work to create a proper source citation, but it's the kind of thing that can pay dividends in the future. The hefty source I created for my ancestor's Civil War pension records will allow me or any researcher to be able to find the source again. And its validity is apparent by the citation.
If you're serious about your genealogy research and don't have Evidence Explained on your bookshelf, the publication of this third edition might be just the reason to invest $54 to have it at your fingertips. If you already have the second edition, you can trade it in at Amazon for $29.74 credit and use it toward the third edition! (Thank you to Thomas MacEntee of Geneabloggers for this tip.)
I haven't had a chance to use the third edition since it arrived last week, but as soon as I get a break from clients, I'm going to read Chapters 1 and 2 on basic principles and plan to consult the work frequently when I'm creating source citations.