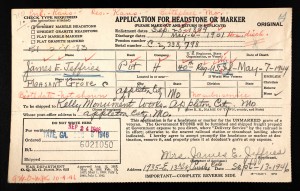 This weekend, I was searching for burial information for my great grandfather, James Earl Jeffries (1883-1944). His death certificate told me his body had been removed to Appleton City, Missouri for burial. I'm going to southwest Missouri next month and hope to visit his grave. So I'm trying to pinpoint where exactly to go.
Imagine my delight when the second item that came up on a search of his name at Ancestry.com was a link to a government Application for Headstone and Marker. James was a veteran: He had fought in the Philippine Insurrection. His widow, my great grandmother, applied to the War Department for a headstone for his unmarked grave two and a half years after he died.
The form not only tells me that he was buried in Pleasant Grove Cemetery in Appleton City, but it gives me his military rank, company and regiment (and serial number), as well as enlistment and discharge dates, and the fact that he was honorably discharged. Even more intriguingly, it supplies an address in Pueblo, Colorado, for my great grandmother. I had not been aware she lived in Colorado after her husband died. I had thought (from conversations with my mother) that she had moved directly to Spokane, Washington, from Missouri after his death. Her sister, I believe, lived in Pueblo. Time for a conversation with my mother!
Finds like these are always so exciting. To me, there's something so real about a form filled out by hand. I feel as though I'm there, witnessing a little bit of history. And it's so wonderful when the hand written form, like this one, is completely legible.