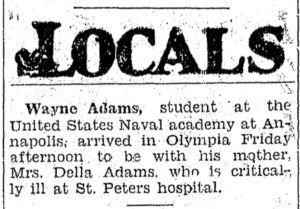 I've been limiting my research to the Adams line of my family this year. I love the focus that gives me and there has been no shortage of information to ferret out!
Recently, I've been looking at newspaper articles in Olympia, Washington, where this family lived in the first four decades of the 20th century. The Daily Olympian (which I access via Genealogy Bank) was full of articles about things we wouldn't consider of much interest today (like family members who live in the same town visiting one another). These articles help paint a picture of my ancestors' lives and occasionally help connect dots.
For example, I read that my great great grandfather's second wife, Della Adams, was critically ill in 1930 and that her son, Wayne Horace Adams, traveled to be at her side at the hospital all the way from Maryland, where he was attending the U.S. Naval Academy. I don't know how he traveled cross country or how long it took, but it reveals a devotion that is an interesting detail as I try to piece together this family's puzzling early life. In 1919, according to divorce documents, Della abandoned Horace (as he was known then) to the care of his 74-year-old father (my great great grandfather, George Washington Adams), when he was 12. As a 23-year-old he crossed the country to be with her when she was critically ill. By then, his father was living in the National Soldier's Home in Danville, Illinois. (Della recovered from her illness and  lived another 13 years.)
These newspaper articles also have allowed me to see how active my great grandmother, Hattie, was in various societies, like the Daughter of Union Veterans and the Daughters of America. I'm also learning the various cities where my grandfather's sister lived. And I came across a delightful article on a badminton tournament that my own grandparents played in together.
I have the good fortune that my grandfather, Dave Adams, was a reporter for the Daily Olympian when he was in his twenties. So I was able to find some first-person articles that gave me some insight into his life (as well as a picture of him at work). I think my favorite was when he wrote about participating in a spelling bee. He was an excellent writer.
I spent a few hours on Sunday with the newspaper and was faced with the challenge of whether to be selective about which articles I downloaded or to take everything I found. Downloading and processing the articles can get quite tedious, so I wanted to be selective. But I know that even the smallest detail might shed light on a future quandary. (Of course, I have to bear in mind that newspaper articles are not always accurate, but they can provide some great clues.)
So I downloaded with abandon and decided that a few of the articles would reside in the appropriate person's folder on my hard drive without necessarily getting entered as a source in my genealogy software. But the vast majority are being used as sources because a nugget–even if it's just a data point about residence–can be gleaned.
In the near future, I plan to outline here how exactly I process these newspaper articles, in hopes that it will be helpful. (I plan to do a screencast.)
How about you? Do you use newspapers in your research? What's your favorite source for relevant newspaper articles? And what's the most helpful thing you've found in your newspaper research?