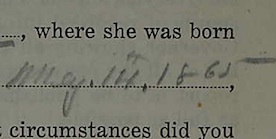 In researching my great great grandparents, Laban Taylor Rasco and Margaret Dye Rasco, whose graves I saw last month in Alabama, I realized that I was seeing marriage indexes that listed their marriage date as March 14, 1865, but in my Reunion software, I'd listed May 14, 1865 as the day they wed. The source for the May date was the Alabama Census of Confederate Soldiers from 1921, a wonderful, information-rich form that had been filled out by hand by (I think) my great great grandfather himself. (I'm basing that on the handwriting in the form matching that of the signature.) Since I haven't yet seen the original documents that were indexed, I was inclined to take my ancestor's word for it.
But then I used the Ages feature in Reunion to see at what age Laban Taylor Rasco was when the various events I'd entered took place. And that's when I realized (a palm-to-forehead moment) that his marriage took place while he was serving in the Alabama Infantry during the Civil War. Thanks to the amazing Civil War records from the National Archives available through Fold3, I knew he had a 60-day furlough starting January 31, 1865. He was residing at a hospital for wounded soldiers in Mississippi (courtesy of a shoulder wound he'd sustained at the Battle of Jonesborough), and his furlough papers listed his residence as Shelby County, Alabama. He returned to the hospital on March 28 and listed on the rolls of prisoners of war paroled at Talladega, Alabama, on June 3. The marriage indexes indicate that he and Margaret were married in Shelby County, Alabama, so the wedding must have taken place during that furlough. (So much for a honeymoon!) May 14 clearly isn't within that window. So I'm changing my records to say March 14.
Laban would have been 77 years old (and still married to Margaret) when he filled out that Confederate Census form in 1921. So I'm willing to cut him a little slack if we mixed up month of his anniversary.
This was a great reminder of the value of using a timeline (and applying a little logic) when trying to resolve conflicting information.