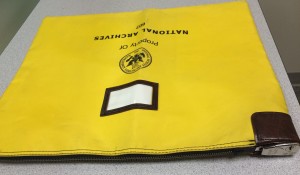 Here in St. Louis, we are lucky to have a branch of the National Archives, the National  Personnel Records Center (NPRC). This massive building houses military personnel records, as well as federal civilian personnel records and Selective Service records.
When I attended the National Genealogical Society's annual meeting in St. Charles, Missouri, in May, I attended a talk by the NPRC director, Bryan McGraw, who detailed which records were available in St. Louis versus in Washington, D.C. (See this page for details on which documents are in the St. Louis holdings.) Attending that talk made me anxious to visit the St. Louis facility, if I could figure out whether I had ancestors there to research.
Then I was contacted by a friend in another states whose grandfather's World War II military personnel records were available at the NRPC in St. Louis. She was looking to save the $70 fee to have the records photocopied and mailed to her. I offered to visit the Archival Research Room at the center and look at the records, and photocopy or photograph them for her. It was my chance to see this place in person.
I thought I'd share the experience here, because I thought it was really interesting.
So here are my Things You Should Know About Researching at the National Personnel Records Center in St. Louis:
You need an appointment. A  fire at the Center in 1973 destroyed many records. Some were damaged but not destroyed and those may require examination and conservation treatment by preservation staff. Before I could see these records, they had to be treated. When that was completed, I was notified they were ready and given an appointment to view them.
You have to go through security. When entering the Center, there's a TSA-style x-ray machine for bags and metal detector The big difference is that at the Archives, they seem a bit more strict and attentive than at the airport. And  security officer was much more polite and respectful.
You'll go through orientation. It was probably a half hour before I actually got into the research room because first I had to fill out some paperwork, talk with a helpful staff member, and watch a PowerPoint orientation. Then I was issued a Researcher Identification Card and sent in.
You're limited as to what you can bring into the Research Room. You're not allowed to bring in your own blank paper for note taking. (Pencils and blank paper are provided.) If you have pre-written paper to which you want to refer, it must be reviewed and stamped "NARA APPROVED."  No pens or laptop cases. No purses. But they do have locked lockers, so you can store that stuff securely. (I had to go back to my locker to get my reading glasses, and that wasn't a problem.) You can bring in laptops, cameras, mobile devices and certain scanners. See this Policies and Procedures page for more information.
You can take great pictures with your phone. They provide what they call "camera table mounts," which are clear acrylic stands, like little tables, that straddle the document. You place your phone on top of the stand to elevate the phone and hold it steady so that you can shoot a photo of the document from above (through the stand). The stand made it really easy to take good photos of many of the documents. I used the photocopier for bound documents, so they could lie flat.
Security going out is stronger than going in. As a precaution against stealing, once you have paid for your photocopies, they count the documents, put them in a folder, and place them in a locked canvas bag (that's one in the photo above), along with any papers stamped NARA APPROVED. Once you've gathered your things from your locker, you take the locked bag back to security, where it's unlocked and your documents given you. There's no way to smuggle anything out.
It's free! Except for the photocopying fee (I think I spent all of $10), there was no charge, not even for parking. There is a little concession area where you can purchase food if you're there all day.
I enjoyed my experience at the NPRC and hope that I can go back to research my own ancestors!
For information about researching at the National Archives, in Washington, D.C., see this great blog post, 5 Tips for Your First Visit to the National Archives in Washington, D.C., by genealogist D. Joshua Taylor, which details that experience. They seem similar, with some key differences.