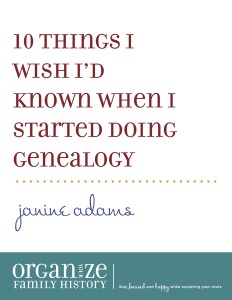 This week, I debuted my first two Orderly Roots guides, 10 Secrets to Organizing Your Genealogy Research and 10 Things I Wish I'd Know When I Started Doing Genealogy. I have come up with eight more topics, but I haven't written them yet.
I'd love to have your input to help me decide in what order to write and publish them. So I created a little poll.
Please check the topics that interest you. (You're not making a commitment to buy one!) You can check up to three boxes. If you'd like to see an Orderly Roots guide on a topic not in the list, feel free to enter that topic in the Other box.
Thank you!