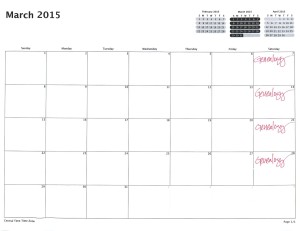 I love doing genealogy research. I just have a hard time finding the time to do it. When I was at RootsTech two weeks ago, I was immersed in genealogy talk for three days and it was divine. Trouble is, I went from there to visit family members with health issues and was immediately immersed in that. I'm back home now, but have been booked solid with organizing clients. So I have yet to do any research, despite my getting all jazzed up in Salt Lake City.
I realize that the time to do genealogy research is not going to just present itself. I need to set aside time in my busy schedule to do it. I think I'll set a goal of doing research at least once a week. That feels realistic. Given my work schedule of late, working on family history on a weekend is probably going to be easiest.
I've learned through my blogging that if I want to get something done, I should do it first thing in the morning. So I think that for the next month or so I'm going to try hard to do family history research (for as long a period of time as I'm able) first thing on Saturday mornings. If I'm seeing a client on Saturday (which is fairly often the case), I'll shift to Sunday. It's rare that I have both Saturday and Sunday clients.
Maybe you can help me. When do you do your genealogy research? Do you schedule it or does it just happen when you feel like it? I'd love to learn from your experience!