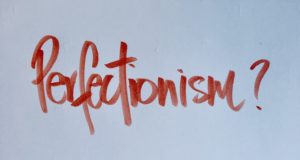 I think about perfectionism a lot. It's the topic of the podcast I co-host with my friend and life coach Shannon Wilkinson every week. But lately I've been thinking about it particularly in relation to genealogy, since I'm working on my RootsTech talk next year, called "The Imperfect Genealogist."
I have about ways perfectionism can cause genealogists to stall in their research. Here are a few examples:
You don't know how to do source citations correctly, so you don't do them at all.
You haven't come up with the perfect way to organize your research, so you just keep doing research without organizing it.
You don't have a whole weekend to devote to your genealogy research, so you don't do any
You don't know the very best way to preserve your archival documents, so you let them languish in an unsafe, non-archival environment (we discussed this very thing on Episode 20 of Getting to Good Enough.)
It's your turn. You guys always provide such great insights I thought I'd ask you. Does perfectionism ever get in the way of your genealogy life? If so, please share what things you tend to get perfectionistic about and the impact it can have. (If you've figured out strategies for getting past that, I'm all ears!) Just leave a comment on this post. I'd sure appreciate your help. I'm sure you'll contribute things I haven't even thought of!
Edited to add: I wrote this post after I installed a new firewall on my site but before I learned that the firewall by default blocked comments! If you tried to comment, I apologize. It's fixed now; please do try again!