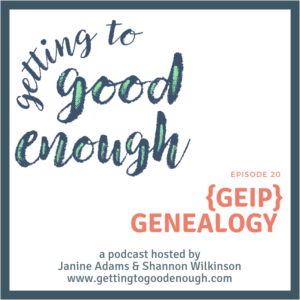 If you're a regular reader of this blog, you might know that I co-host a podcast called Getting to Good Enough. Every week, my co-host Shannon Wilkinson and I publish an episode aimed toward helping listeners let go of perfectionism so they can do more of what they love.
This week we'll publish Episode 113, but way back in Episode 20, which was published on October 11, 2018, we focused on genealogy. (I blogged about it at the time.) So far it's our only genealogy-focused episode, though the principles we discuss every week can be applied to genealogy.
It occurred to me that some of the readers of this blog might not be aware of the podcast, or that we had a genealogy-focused episode, so I wanted to draw your attention to it. You can listen on our website or on iTunes or Google Play or Stitcher.
Letting go of perfectionism has become one of my passions and it was the subject of the RootsTech talk I gave in February, as well as the Zoom presentation I did for the North Hills Genealogists in May. I am indebted to the readers of this blog who helped me craft that presentation by responding to my request for comments on how perfectionism has been a problem in genealogy.
I urge you to give it a listen. Feel free to let me know in the comments if perfectionism sometimes gets in the way of your genealogy research and whether you've come up with any strategies to get past it!