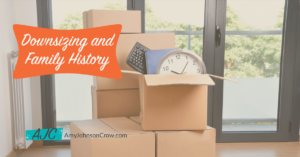 I was so happy to be interviewed once again for Amy Johnson Crow's  podcast, Generations Cafe. It's a great podcast and I look forward to each new episode.
This week, Amy kicks off a series on downsizing, based on her recent experience in moving her parents from their home of many decades into a smaller space. In this week's episode, called Downsizing and Family History, we talked at length about how it can be tricky for genealogists to decide what to let go of when they recognize the potential genealogical value of items for future generations.
The intersection of my work as an organizer and my passion as a genealogist is one of my favorite places to spend time, so I really enjoyed this opportunity to talk with Amy. (If you want to learn a little about how Amy organizes her own family history research, check out her How They Do It interview on this blog from July 2017.)
If you're not already listening to Generations Cafe, I urge you to subscribe. If you're new to podcasts, Generations Cafe is a great first genealogy podcast to subscribe to! The podcast showcases Amy's clear-eyed view of genealogy and her excellent communications skills.
So glad to be a tiny part of it!