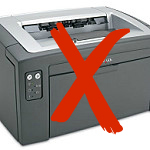 When I started this blog in 2012, I printed everything. I did a lot of research online, but I would print out the documents I found online and read the printed version. Then I would  file them in my paper filing system after recording the information into my family tree software. Gradually, I've stopped that practice. I think the turning point was when I created an electronic filing system that I was confident in. Before that, I was afraid I wouldn't find the document on my hard drive.
Now, the only paper that goes into file folders are documents that came to me in hard copy form. And even some of those are scanned and discarded.
In an effort to encourage others to consider giving up printing, I've come up with a list of eight advantages to going paperless:
It's less expensive. When you print, you're using paper, toner (or ink) and electricity. And you're creating wear and tear on your printer.
It takes up less space. As your paper files (or binders) grow, they take up more space. (And certainly piles of unfiled paper take up a lot of space!)
It's easier to file. More effort goes into filing a piece of paper into a physical file folder or binder than into an electronic folder.
Electronic documents are easier to find. If you misfile a paper file or leave it in a pile, it can take a lot of effort to find it.
Electronic documents are searchable (usually). With a few keystrokes you can find all your electronic documents that share certain attributes (like a surname).
Electronic files are easier to read. You can zoom, adjust contrast, brighten and do all sorts of things to electronic documents that make them easier to read. And that makes your research easier on your eyes. (I can't remember the last time I used my lighted magnifier!)
Electronic documents are easily backed up. I recommend using both an external hard drive and a cloud backup.
Electronic files are easier to share. No photocopying or mailing necessary!
Do you have any reasons to add? I'm convinced, but I'd love to hear from anyone who would like to make a case for keeping paper copies of everything!
Photo of printer by Sir Adavis via Flickr. Used under Creative Commons License. (Red X added using PicMonkey.)