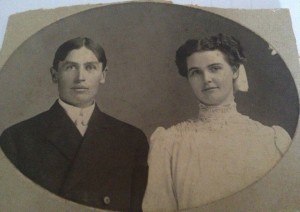 Yesterday, I did a consultation with a 74-year-old man in need of organizing assistance. He proudly pointed to the wall in his hall where framed family photos were hanging. I looked at pictures of his kids and grandkids. But really drew my attention were the wedding photos. Each was such a snapshot of time.
I saw his own wedding photo, circa 1971. The bride's dress stopped well above the knee. Fantastic. Then I saw his parents' wedding photo, which was taken about 40 years earlier. The contrast was remarkable. It was so clearly of another era. More somber. More formal. More clothed. And absolutely beautiful.
It makes me want to find more wedding photos of my ancestors. A quick look through the small cache of photos that my mother has given me revealed the photo above, of my great grandparents, Arthur John Brown and Rhoda Wheeler. It was taken on the day of their wedding, October 18, 1905, in Nebraska. (Please forgive my crude photo of a photo.) It's also a snapshot of an era.
One of my favorite department in Family Tree Magazine is Photo Detective, written by Maureen Taylor. Each month, Taylor points out historical clues in old photos. Taylor has a Photo Detective blog on Family Tree Magazine's website. If you love looking at the details of old photo, you should check them out.