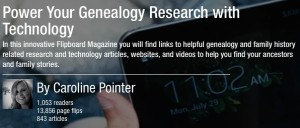 Today for some reason I googled "Flipboard for genealogy." Flipboard is the iPad app that creates beautiful magazines on your iPad (or other tablet, I believe). I don't really have my mind wrapped around it completely (and when I do, I'll write about it here, I promise), but the top hit in my google search was Power Your Genealogy Research with Technology, a Flipboard Magazine put together by Caroline Pointer. It pulls together various articles and blog posts related to genealogy. Flipboard is a really enjoyable way to experience the web. You can access it from your mobile device on the Flipboard app, but you can also access it on your computer via the web.
One frequent source of information on the magazine was 4YourFamilyStory.com.  Each day, 4YourFamilyStory.com's blog creates a list of X number of genealogy things you need to know this morning (might be six, might be seven, whatever that day brings).
The listings include what's added to various online databases that day and links to interesting genealogy-related articles. Everything is timely and clearly presented. I really feel like I've stumbled upon a treasure trove!
The discovery of these two new-to-me resources will prove to be valuable when I'm trying to think about what to write about and what to research. I thought you might enjoy learning about them too.