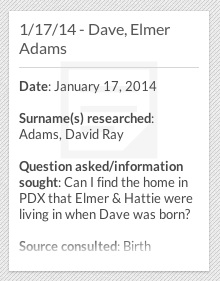 One of the features of the Family History Organizer custom notebook I created for Springpad is the Research Tracker tab. Since I started getting serious about family history research about 18  months ago, I knew I needed to do a better job of keeping a research log. I tried a spreadsheet, but failed to keep up with it. I think the problem was that I had so many columns to fill out, it felt overwhelming.
So when Springpad asked me to create this notebook, I requested a place to easily record research sessions. It includes headers that can be copied and pasted into a fresh note for each research session. (I made up the headers that make sense to me, but you can easily edit them so that you're copying and pasting headers that work better for you.)
I've been using the Research Tracker for a couple of weeks and have found that it's really helpful. I start creating a new note at the beginning of each session, which helps me identify the information I'm looking for in the session. I like that when I finish filling it out at the end of the session, I identify next steps in the research.
I think what I like most about it is that it's simple and non-intimidating. It may not be as thorough as a formal research log, but it's way better than what I was recording before (which was nothing). Since I'm trying to do research five days a week (or at least work on organizing my research), I have plenty to enter and am feeling optimistic that this will keep me on track.
If you're interested in trying it out, simply download the Family History Organizer notebook into your free Springpad account. (Or learn more about the notebook before downloading.)