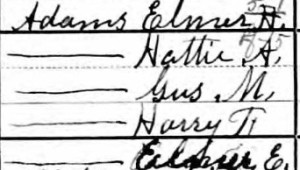 Being a professional organizer, I actually love  organizing my family history research. (Usually.) But I certainly understand that for most people it's not the most exciting or glamorous aspect of doing genealogy research.
A week ago, in my mid-quarter progress report, I realized that I was falling behind on the organizing goals I'd set in my big plan for this year. I decided I would focus on marrying my electronic and paper files, making sure that my direct ancestors' siblings were included in my Reunion software, and ensuring that my electronic files were in their proper folders.
I thought that was a great plan for spending my genealogy research time over the next few weeks. But the problem, I discovered, is that it's also a bit tedious and boring. What I really want to do is research, not just focus on playing organizational catch up.
So I used a technique I use all the time for other tedious tasks and what I advise clients to do: I set a timer. I told myself that for 15 minutes I would work on making sure the contents of my paper file on Elmer Adams and Hattie Igleheart Adams were on my hard drive in the appropriate place. Just knowing it would be only 15 minutes was enough to get me started. (As Flylady says, you can do anything for 15 minutes.)
Here's what's great. In the course of looking over the 1900 census document for Elmer and Hattie that I'd printed years ago, I noticed something I hadn't noticed then: a baby named Elmer E. Adams, aged 6 months. And I noticed that Hattie had had another child who had not survived. That means there are two children of Elmer and Hattie (both born and died before my grandfather, their son, was born in 1904) who I hadn't included on my family tree.
So that's a tantalizing tidbit to explore. I did hop over to Ancestry to see if I could find any more info–there was one unsourced tree with these two children included. I recorded the information in my research tracker so that I could remember to try to find a source later.
So I feel like a big winner this afternoon. Using my timer, I made progress on getting the less exciting work done and in the course of it, I made an exciting little discovery.
If you dread the thought of organizing your family history documents, perhaps you can set a timer and just get started for a little while. I know I'll get through this if I do a little every day!