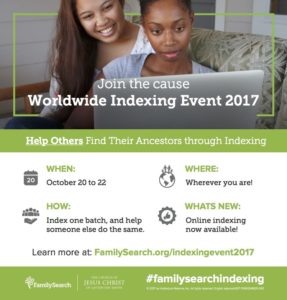 I just learned about Family Search's Worldwide Indexing Event, October 20 to 22. People from all over the world will work together to index as many documents as possible this weekend. So far, almost 60,000 people (including me!) have signed up.
I've long wanted to help with indexing since I know how helpful it is to find indexed documents and I'm so grateful to Family Search for making these documents (and indexes) freely available. A few years ago, I tried to volunteer to index but at the time it required downloading software and the indexing software–despite my best efforts and calls to tech support–simply would not play nicely with my Mac.
Things have changed! One can now index via the web, so no software is required.
Before committing, I thought I'd give it a try. I searched the available indexing opportunities and indicated I was interested in beginner level batches in the United States. I selected Divorce Records from Colorado, 1900-1939. The instructions and the indexing form were clear and I quickly indexed my first batch of ten divorce documents. I'll hold off until Friday to do more, but I found the process enjoyable. Some day soon, perhaps, I'll graduate to more challenging documents (these divorce records were typewritten), but I'm setting myself up for success by at least starting out with beginner documents this weekend.
I can't wait to learn how many documents are indexed this weekend. Think of all the genealogy researchers who will be helped. I'm excited to be a part of it!