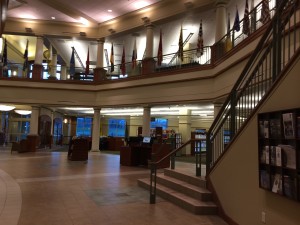 I just arrived home from my trip to the Midwest Genealogy Center in Independence, Missouri (about a 3.5 hour drive). I wrote earlier in the week about how I prepared for it.
I had a great time. The library is beautiful and the people who work there so helpful. I met up with my friend and fellow genealogy researcher Lori Krause and we researched together at the library and had dinner together.
There were two things I didn't bring that I wish I had, most notably my reading glasses. I wear progressive lenses in my glasses, which have a reading area at the bottom. But since I spent some time using microfilm reading machines, I had to tilt my head way back to read. And that got a little uncomfortable. I actually have computer glasses, too. Next time I'll bring those as well. This was definitely an oversight on my part.
The other item I didn't have that would have come in handy was Post-It notes for marking pages of books I wanted to copy.
I brought my laptop computer along and was glad I did. I also had my iPad, but I prefer Reunion's desktop client more than its iPad app, so I stuck to the computer. I was so glad I'd brought a flash drive, which I did at the suggestion of reader Maria Tello. The library's copy machines will store the image on a flash drive. So I copied pages from a couple of books right on to my flash drive, free of charge. (How cool is that?)  I was also glad I'd brought water and some snacks.
I was really glad for the preparation I'd done, but it wasn't enough. I actually blew through the spreadsheet I'd prepared of resources I wanted to check quite quickly. And then I was faced with trying to use my time well. When I would feel overwhelmed by all the possibilities, I would focus in on the Brown family, the branch of my family that I'm focusing on this quarter.
Next time I go, I'll try to perhaps stay a little longer and have shorter research days. After a full day of research yesterday, I was seriously tired. And I want to have a laser focus each day. I think I'll pick just a few people and really hone in on what I know and don't know about each of them and see how I can flesh out the information. This trip I tried to look up information on too many people and so I felt scattered.
Was the trip successful? Yes! I'm a little disappointed that I didn't have any Eureka! moments, but I did add eight new sources in Reunion. Having been to the library once will allow me to plan even better for the next trip, as I move my way up the family tree.