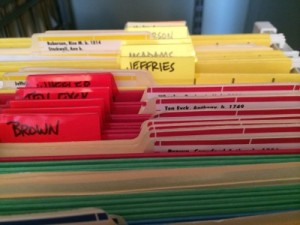 If you've read this blog from its start six years ago, you know that I used to be a paper person with my genealogy research. Storing documents on my hard drive made me nervous before I had a solid folder structure and file-naming system in place. So I put together a couples-based folder system that worked for me.
It turns out there were some documents that I couldn't easily file by couple and I put them into a separate file. Then I committed the cardinal sin of paper management: I didn't label that file.
For years now, I've been paperless with my genealogy. I can't remember the last time I printed something I would have to file.
Yesterday, though, I remembered a family history written in the 80s by a cousin of my grandfather.  I wanted to look at but it wasn't on my hard drive, so I dug into my paper files looking for it. It wasn't where I expected to find it, so I kept looking. And that's when I found the unlabeled file of miscellaneous papers.
Happily, the family history was there and it's now scanned and filed on my hard drive, with the paper version filed where I would expect to find it. (I suppose I could part with all that paper, but it's not doing anybody any harm, so I haven't pulled the trigger on that.)
Also in that mystery file, I found a packet of papers about my Adams line that had a sticky note on it that said, in my handwriting, "Return to Aunt Gwen." Yikes. Aunt Gwen is my father's sister. I haven't even looked at it yet, but I brought it to my desk to process and scan. Then I'll return the papers to my aunt.
How about you? Do you paper files of genealogy research that you no longer use? It might be worthwhile to dive in there and see if there are any fun documents (filed or otherwise) that you've forgotten about!