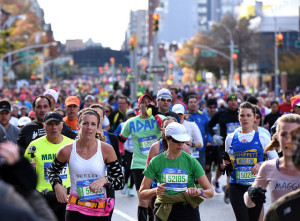 Last Saturday, I squeezed some genealogy research in, because I had marked it on my calendar. I know that if it weren't in my calendar, I wouldn't have focused on my research that morning. I was preparing to go to a baby shower that morning and contemplating starting on my taxes in the afternoon. But because I'd made that commitment, I did a little something.
Keeping my commitment to doing research every weekend was important to me and I told myself that it didn't matter what I did, as long as I did something. So I spent some time creating the beginnings of a new sheet for progress tracker on more in-depth information, which I'll share as soon as I feel it's finalized, and I added two siblings to my tree, in an effort to flesh out my collateral lines.
As I was looking for small tasks to do in the short period of time I had allotted to me, the title of this post came to mind: Genealogy is a marathon, not a sprint.

Isn't that the truth? Genealogy research is a lifelong endeavor in which a series of short research sessions can add to an important body of work.
In my fantasy life, I'm a wealthy retired organizer and I could spend all my time researching and perhaps traveling the country and the world (à la Who Do You Think You Are) solving research challenges.
In my real life, I'm a working organizer wedging genealogy research time in between client appointments, running a business, and family and personal obligations. So I do what I can, when I can do it (which, right now, is every Saturday or Sunday morning). And I take satisfaction in knowing that all the work will add up.
There are several tools that help me keep continuity as I do my research a little at a time:
Those things help me pick up where I left off, which has traditionally been a real challenge for me.
Whenever I get frustrated at not being able to spend more time with my genealogy research, I'm going to remind myself that this is not a sprint, and I'm in it for the long haul. Then I'll do a little something.
Photo by Steven Pisano via Flickr. Used under Creative Commons License.