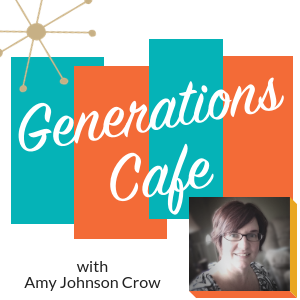 I'm an unabashed fan of genealogist, writer, and lecturer Amy Johnson Crow. I always jump at the chance to hear her speak at a conference. And I was thrilled when she interviewed me at RootsTech a few years ago. Most recently, I was able hear her speak for two days at the Missouri State Genealogical Society conference in August. In her talks, Amy always delivers solid, well-presented information.
At that conference, she confided in me that she was going to start a podcast. I was happy to hear that because I'm a big fan of podcasts and I know she has so much to share.
That new podcast, Generations Cafe, launched on September 20. Amy has published three episodes so far and they're excellent. Her podcasts are short and focused. (The first three are between 10 and 15 minutes each.)
Since my own podcast is about getting over perfectionism, I was delighted that the first episode of her podcast was called Is Perfectionism Ruining Your Genealogy? (And I was tickled pink to hear her mention my name in that episode!)
If you don't love podcasts (or haven't tried them and are unsure), definitely check out the Generations Cafe posts on Amy's website because for each episode she has written an accompanying blog post that provides, in written form, the information that is shared in the podcast.
I'm very excited to see what Amy will be exploring and her podcast will definitely be on my list of must-listens!