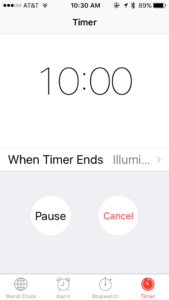 I've been trying hard to adhere to my new routine of doing genealogy research first thing in the morning. The trouble is that some mornings are busier than others. When I have an 8:30 client appointment it can be challenging for me to find the time to do research. My genealogy research is important to me, but it's not urgent.
For the last month, I've done at least a little research almost every morning. I'll set my timer for as little as ten minutes and research for that short amount of time. Since my current project is systematically going through my source documentation–which is actually proving to be really interesting and enjoyable–I know exactly where to start and I know that a little bit of focused time will move me along.
What I've discovered in doing this is that the benefit goes beyond furthering my research. Keeping myself engaged in my research on a daily basis makes me more excited to work on it. It also makes me feel more connected to my ancestors and helps me remember names and dates.
For the first half of the year I thought a lot about my genealogy research but I didn't do a lot of it. Mostly I just felt anxious or guilty about not taking the time to work on it. These days, I'm still thinking a lot about it, but my thoughts are happy and productive. That's a wonderful shift.
Doing just a tiny bit of daily action reaps big results. This is true in family history research. It's also true in organizing your family history research. And let's face it–it's true in many other aspects of life, like exercise and healthy eating.
Daily habits are the foundation of an easy life. I've said that for years as a professional organizer. Now I'm seeing it come true in my genealogy research. I love it!