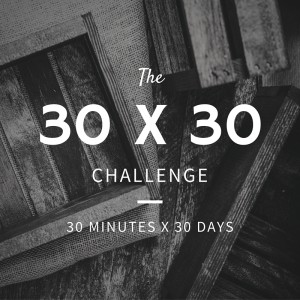 It's January 1. Happy new year!
There's nothing like a new year to make me want to start up a new 30 x 30 challenge, in which I challenge myself to doing 30 minutes of genealogy research each day for 30 days. My last 30 x 30 challenge was in October 2018 and in the wrap-up post for that, I said I'd offer it up again in January. Do you care to join me?
I love this challenge because it's not too difficult, but it is very beneficial. Doing a half hour of research a day is not a hardship (for me, anyway) most days. And the challenge makes me prioritize daily research. Otherwise, it can fall lower on my list of priorities and then it just doesn't happen. In fact, my November and December were not great for my research, though I was able to pick it up again over the holidays.
I find daily research to be really beneficial. For me, 15 hours of research split over 30 days is much more valuable than a weekend of research where I work 7.5 hours a day. By researching this way, I stay in touch with my research and I stay focused. It also has helped me ingrain a habit of using my Evernote research log.
Please let me know in the comments if you're up for joining me in this challenge. It's a great way to start the new year!