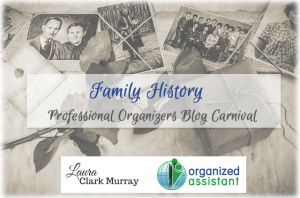 As a professional organizer who blogs (in addition writing here, I have a blog at my business's Peace of Mind Organizing website), I occasionally  participate in the monthly Professional Organizers Blog Carnival. Each month organizing bloggers are asked to submit a single post that matches that month's theme.
I was delighted to see that the theme for October is Family History. My biggest challenge was to decide which blog post to submit! I ended up submitting one from my organizing website, Tracing my roots: Why I love genealogy research.
The Blog Carnival was published today and it occurred to me that readers of Organize Your Family History might enjoy perusing the 14 family-history-related blog posts in the Carnival. My organizing colleagues write great stuff.
So here's the link: Family History – Professional Organizers Blog Carnival.
Enjoy!