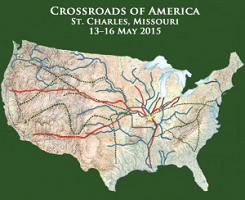 I was really blown away by the quality of the conference sessions I attended at the National Genealogical Society conference this past May. The sessions were in depth and quite scholarly and I really felt like it was a great value. Of course, that value was enhanced by the fact that the conference was held within easy driving distance of my home. But I liked it so much I'm giving serious consideration to attending the 2016 NGS conference in Ft. Lauderdale, May 4-7.
This weekend I was spending a little time on my backlog of papers picked up at the conference this year (I didn't manage to properly process my NGS papers) and found the order form for conference session recordings. I was delighted to see that they are available as MP3s, rather than CDs, since my 2014 MacBook doesn't have a CD drive. I downloaded three sessions, and so far have listened to one.
At $9 each, these downloadable sessions are a great deal, in my opinion. If you're interested, just go to the 2015 NGS conference page of Jamb Inc's website. (And while you're there take notice of  the fact there are many past NGS conference recordings available, as well as other genealogy conferences).
I downloaded two sessions I wasn't able to attend, about resources in states I'm researching, as well one I did attend (Julie Miller's excellent Anatomy of a Pension File). I wanted to hear Julie's talk again, as I proceed in processing my own ancestors' Civil War pension files. And I'm glad I did; it's already been very helpful.
Whether you attended the conference or didn't, you might find these recordings really helpful.